ACAM is proud to announce a solution! Available now for purchase: our seven lecture series on medical weight-loss.
Finally, an ANSWER!
ACAM has developed a weight loss strategy that pulls all the loose ends together, helping you make informed decisions on integrative approaches to weight-loss.
SPECIAL PRICING AVAILABLE NOW -
LEARN MORE!
Kelloggs's Breakfast- A Threat to your Health?
Antipsychotics: Are They Killing Elderly People?
READ MORE
Study Discusses model for understanding nutrition and brain development.
Type 1 Diabetes linked to gut inflammation, bacteria changes

READ MORE
VIDEO: Flint frustrated a year after Snyder's "fix it" promise.

"Believers in Glass" says no plastic is safe.

Want your kid to have asthma? Take acid blockers!
READ MORE
Scotts-Monsanto GM grass threatens national forests, rivers, ranchers, and farmers

Did you know?

Founder of HealthBridge Newport, the only integrative medical center of its kind, treating patients worldwide for Autoimmune Diseases, Inflammation, Addiction Recovery, Depression, Anxiety, Fatigue, Weight Gain, and Sexual Dysfunction
Dr. Gina Nick, NMD is a California and Hawaii licensed Naturopathic Physician, founder of HealthBridge Newport and is among a select group of Forever Health™ Network Physicians offering Bio-identical Hormone Replacement Therapy, in partnership with Suzanne Somers.

Dr. Gina is a published author, entrepreneur and mother, and featured television expert on the cable show Fine Living Network (HGTV) and on PBS. She is an active member of the Board of Directors for Angel Light Academy, a non profit organization that teaches leadership to underserved children through the demonstration and practice of unconditional love. LEARN MORE

ACAM is pleased to announce the new book
Gasp
, co-written by Howard Hindin, DDS, a member of the ACAM Board of Directors.
The Airway Centric® Model prevents Airway-Centered Disorders, Sleep-Disordered Breathing to maintain mental and physical health. Learn how to recognize and correct Airway-Centered Disorders, Sleep-Disordered Breathing. Gasp is about our airway, breathing and sleep. Problems can start at birth. Many premature babies are mouth breathers. A poorly structured and functioning airway leads to mouth breathing, snoring and sleep apnea; it can interfere with restorative sleep and ultimately damage the part of the brain called the prefrontal cortex, which controls executive function skills, attentiveness, anxiety and depression.
Learn how to restore an ideal airway with early intervention, and where to go for help. Learn how once the airway is established with breastfeeding, allergy treatment, and other methods, neurocognitive and neurobehavioral problems are greatly improved-often without any medication. Anxiety and depression are alleviated, and the behavior and performance of children are remarkably transformed. Today there is a health movement toward "Wellness." Wellness is about diet and nutrition, exercise, and mental attitude. The new paradigm is called "Functional Medicine." It addresses the causes of chronic disease with an individualized approach and emphasizes early intervention.
LEARN MORE & ORDER
CHELATION THERAPY: Life-Saving Alternative Treatment?
CLICK HERE for news segment from ABC Philadelphia
ACAM is pleased to announce the new book

The Cancer Revolution

, written by Leigh Erin Connealy, MD, a member of the ACAM Board of Directors.



In her just-published book, Leigh Erin Connealy,MD shares her groundbreaking integrative approach to both treating and preventing cancer.
"Fortunately, you can learn about many cutting-edge cancer therapies by reading this book," says Dr. Joseph Mercola in The Cancer Revolution foreword. "Dr. Connealy carefully and clearly details the wide array of comprehensive strategies that you can consider for treating cancer. There really are an astounding number of choices and she does a magnificent job of compiling them conveniently in one place. It would take you many weeks, and more likely months or years, to collect the options that she concisely reviews here...Not only does she outline the natural options for treating cancer, but she provides resources that you can use to identify a natural clinician that resonates with your philosophy and budget."


Dr. Connealy's latest book offers practical strategies that have helped thousands of patients:
Let food be your medicine.
Remove toxins to repair and restore your body.
Harness the healing power of supplements.
Reduce stress and reclaim your life.
Strengthen your immune system with sleep.
LEARN MORE & ORDER
The Versatility of Virgin Coconut Oil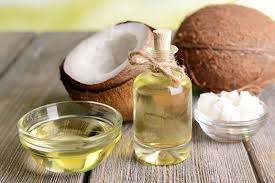 Everyone has their favorite scent: lavender, rose, balsam and many others, but for me it is definitely coconut. Maybe this particular scent conjures up the tropical vision of swaying palm trees and turquoise waters and immediately, I am feeling more relaxed. Whether the scent is coming from some type of beauty product or from something yummy cooking in the oven, coconut based products and edibles are abundant today. Aside from its soothing qualities, its health benefits are rapidly being documented in research studies, so let's take a look at some of those first. I was curious about what was being studied in regard to coconut oil.
READ MORE
Coconut Chocolate Bars
Need a sweet treat for Valentines Day? This simple yet delicious recipe is sure to satisfy your sweet tooth this Valentines day! The complete recipe is listed: CLICK HERE and e
njoy!